This article will mention the top 5 residential districts in Istanbul, located on the European side of Istanbul, what distinguishes these districts, and their residency style.
Table of Contents
What are the top 5 residential districts in Istanbul?
Kucukcekmece District
Kucukcekmece district is in the European side of Istanbul, Turkey. The neighborhood's name comes from Istanbul's largest and most crucial lake, Kucukcekmece Lake. Kucukcekmece district is located west of the historical peninsula and flanked by the communities of Basaksehir, Esenler, Bagcilar, Bahcelievler, and Avcilar.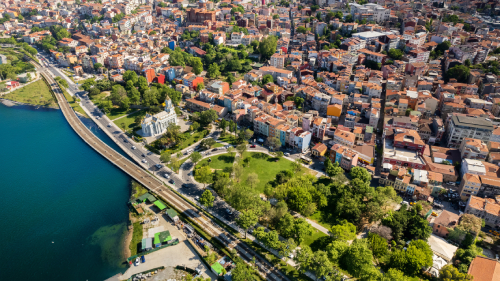 Kucukcekmece Lake
The name of the neighborhood comes from the Kucukcekmece Lake, a notable topographical feature that offers visitors and residents a beautiful setting. It is a well-liked location for leisure activities because it has several parks and recreational spaces along its coasts.
Residential Areas
The district of Kucukcekmece is diversified, with a variety of residential areas. From families to young professionals, it serves a diverse population of locals. Many different housing alternatives are available, including modern apartment complexes, townhouses, and more traditional residential communities.
Transportation
Concerning transportation, Kucukcekmece is well-connected to the rest of Istanbul. The district is crossed by the E-5 highway, one of Istanbul's main highways, the TEM highway, and the Basin Express, which makes it simple to get to other areas of the city. Kucukcekemce railway station (Marmaray), Public buses, and the Metrobus, a rapid transit system that links several sections of Istanbul, are also available in the area.
Healthcare and Education
Numerous educational facilities, including primary, high, and vocational schools, are located in the district. Additionally, there are other colleges and universities close by such as Istanbul Aydin University, and Istanbul Sabahattin Zaim University. Public and private hospitals, medical facilities, and clinics are present in Kucukcekmece, guaranteeing residents have access to healthcare facilities to get the best health services.
Check our latest projects in the Kucukcekmece district
Basaksehir District
Basaksehir district is located northwest of the famous peninsula and part of the broader Istanbul metropolitan area.
Modern Development
One of Istanbul's most recent districts, Basaksehir, has undergone major recent development. New residential and commercial buildings have fueled the district's urbanization, making it a desirable location for individuals looking for contemporary living and facilities. It includes Basaksehir City Square which is considered as the district's heart, it acts as a hub for a variety of activities and events. Public areas, cafes, and recreational amenities can be found in the square.
Residential Areas
Basaksehir is famous for its well-designed, contemporary communities. Due to its family-friendly environment, green areas, and conveniences, the area is especially appealing to families. Apartment complexes and townhouses are just some of the housing alternatives available.
Healthcare and Education
The Basaksehir Cam and Sakura City Hospital, one of Turkey's most extensive and modern healthcare facilities, is one of Basaksehir's outstanding features. The hospital complex offers complete health services and is outfitted with cutting-edge medical technology.
The district has several educational institutions, including high schools, vocational schools, and elementary and secondary schools. Universities and other institutions of higher learning are also located nearby such as Ibn Haldun University.
Transportation
One of the main features of this district is its close proximity to Istanbul Airport; It is easy to get from Basaksehir to other areas of Istanbul via various transportation methods. Public buses and the Basaksehir Metro Line are all accessible from the district; it passes through the TEM highway and Basin Express, making it simple to get to other city areas.
Amenities
Basaksehir is a home to number of well-known shopping malls that serve the demands of its residents. Basak center, and most notably Mall of Istanbul to be one of the biggest shopping malls in Turkey, which includes both local and international famous brands, as well as a large cinema complex for entertainment acitivities.
Check our latest project in the Basaksehir district
Sariyer District
Sariyer district is located north of the famous peninsula and renowned for its stunning natural features, like the Bosphorus Strait and verdant landscapes, it is positioned between the Black Sea to the north and the Bosphorus Strait to the east. Most notably that Sariyer is counted as the safest area against earthquakes.
Istanbul's main commercial and financial area is Maslak in the Sariyer district. It has cutting-edge infrastructure, upscale housing, and academic institutions. Both locals and businesses find it desirable due to its advantageous location and employment possibilities.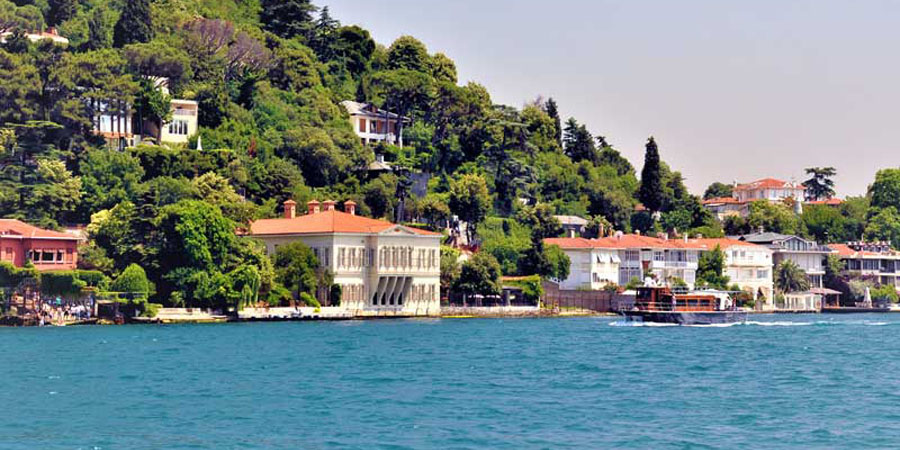 Bosphorus Strait
The Bosphorus Strait's proximity to Sariyer is among its most essential characteristics. The Bosphorus and Istanbul's Asian side are beautifully visible from the neighborhood's coastline along the canal. Sariyer is a popular destination for individuals looking for scenic living settings, because many of its districts have direct access to the waterfront, and many of seaside restaurants and cafes.
Green Spaces
Sariyer is well-known for its luxuriant greenery and natural beauty. The district has plenty of chances for outdoor activities, including hiking, running, and picnics, because it is home to woods, parks, and wooded regions. Belgrad Forest attracts many outdoor enthusiasts and those who like the great outdoors.
Residential Areas
The district provides a variety of housing alternatives, such as premium areas with waterfront mansions and apartments, as well as more conventional residential areas. Istinye and Tarabya are neighborhoods in Sariyer, which are considered as luxurious residential areas. To be mentioned that properties with views of the Bosphorus Bridge and proximity to the water are especially sought.
Transportation
Sariyer has excellent transportation connections to the rest of Istanbul. The TEM highway and the seaside road make access to other city areas simple. The neighborhood is served by buses and other forms of public transportation. The Haciosman Metro Station connects the neighborhood to Istanbul's metro system.
Education
The district provides its citizens with a variety of educational alternatives, such as public and private schools as well as higher education institutions. Some of the main universities are Koc University, and Istanbul Technical University, both known for their high-quality education.
Historical Sites
Sariyer has a variety of historical sites including the Rumeli Hisari Fortress, which was constructed in 1452 by Ottoman Sultan Mehmed the Conqueror in anticipation of his conquest of Constantinople.
Check our latest projects in the Sariyer district
Kagithane District
Kagithane district is a neighborhood in Istanbul's northwest, bounded to the north by Eyup, to the south by Sisli, to the southwest by Besiktas, and the southeast by Beyoglu.
Residential Areas
Due to its handy position and easy access to transportation networks, Kagithane developed over time into a more residential neighborhood which contians a great city life that draws in locals and young professionals.
Real Estate
With various residential and commercial projects underway, Kagithane has undergone major urban redevelopment and growth in recent years. As a result, property values have increased, and contemporary housing complexes have been built.
Transportation
Through various transportation alternatives, like buses, the metro, and other public transportation services, the district is well-connected to other areas of Istanbul as E-5 and TEM highways cross its line. Numerous metro stations serve Kagithane, making it more straightforward for locals to commute to other parts of the city.
Parks and Recreation
Kagithane has parks and open spaces that allow locals to unwind and engage in outdoor sports. For those who enjoy the outdoors, the vicinity of the Belgrad Forest and the lovely Ayazma Park is a bonus.
Check our latest projects in the Kagithane district
Beylikduzu District
The Marmara Sea to the south, Buyukcekmece district to the west, Esenyurt to the east, and Avcilar to the north border the western region of Istanbul where Beylikduzu district is located.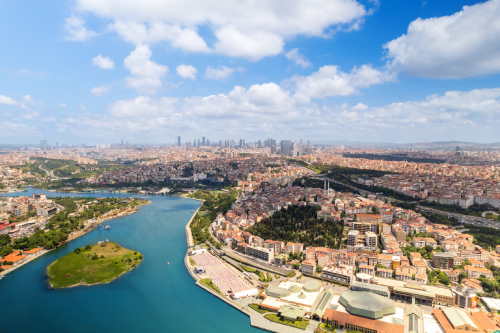 Residential Areas
Modern home developments in Beylikduzu are well-known for providing a mix of apartments and villas. Because it is less expensive than the city center, the district's real estate market has grown, making it a desirable choice for families and young professionals.
Coastal Areas
Beylikduzu has a coastline that abuts the Marmara Sea, and there are parks, paths for walking, and recreational spaces there that look out over the water. The coastline area has recently experienced development and beautification, making it a sought-after destination for locals and tourists.
Transportation
Beylikduzu has excellent transportation connections to different areas of Istanbul. The district has easy access to the city center and surrounding areas thanks to the E-5 highway. The region is mainly served by the Metrobus line, which connects the European side to the Asian side of Istanbul, buses, and minibusses for public transit.
Amenities
Beylikduzu has several amenities, including shopping malls like Marmara Park Mall, marketplaces, restaurants, cafes, and amusement areas. Numerous new commercial and social venues have been developed to accommodate the district's expanding population.
Check our latest projects in the Beylikduzu district
Conclusion For The Top 5 Residential Districts in Istanbul
Above, the top 5 residential districts in the European side of Istanbul have been discussed, highlighting what distinguishes each one of them in terms of location, residential area, transportation, healthcare, and other aspects.
Check out some of our interesting projects in Istanbul